12" Square Barn Door Pull with Flush Plate & Latch | Stainless Steel
$59.95
Size Guide
---
---
Sleek. Modern. Stylish
This classic contemporary stainless steel barn door handle pull & flush combo kit coordinates seamlessly with our stainless sliding barn hardware kits. It perfectly complements I, J, spoke wheel, and decorative hangers. The simple double-sided design offers an effortless and easy DIY install.

Are you feeling bold? Pair with a matte black barn door kit to explore your wild side. There's nothing wrong with getting a little creative.

The main features of this set are a long 12" square pull bar, 9" flush finger pull, and matching hook latch for added privacy in bedrooms and bathrooms. Whether installed indoors or outdoors, this sliding door pull set is an outstanding choice.

Our focus is to design timeless yet straightforward barn door hardware pieces for DIYers, designers, decorators, and contractors. If you're considering installing a sliding barn door in your home or office anytime soon, this barn door handle hardware is an excellent choice.
*This product qualifies for FREE Shipping on orders over $200
*In Stock. Ready to Ship.
Featuring a single 12" square bar, our barn door handle provides a smooth & easy pull. Kit includes:
(1) 9" flush finger pull
(1) 12" long square bar pull handle
(2) Bolts
(2) Base Pads
Hex Wrench
PDF Instruction Manual (available for download)
HIGH-STRENGTH CONSTRUCTION
Forged from high-strength stainless steel, the components included in this barn door hardware pull kit are extra strong, highly dependable & tough enough to last & last. Perfect for commercial or residential use.
BEAUTIFULLY CRAFTED STAINLESS STEEL
Our barn door handle with stainless steel plate & locking latch has been professionally upgraded for added durability and protection. The stainless steel finish goes with all types of decor!
COMES WITH SLIDING BARN DOOR LATCH
Each barn door handle kit includes a flush mount cabin hook latch. Some DIY decorators forget to install a barn door latch, leaving them with no locking options.
PAIR WITH MJC BARN DOOR HARDWARE KIT
Caldwell Company barn door latches & handles have been designed to complement our barn door hardware kits and floor guides. Shop our entire collection of premium barn door hardware accessories!
QUICK & EASY PROFESSIONAL DIY INSTALL
Barn Door Handle with Lock Latch & Backplate.
We're taking the complication out of your barn door installation. Our barn door pull handle comes with a flush mount backplate + a matching cabin hook latch. Screws are included, so you'll be all set to complete a DIY door hanging fast.
UPGRADED STAINLESS STEEL FINISH
Unmatched Quality, Decoratively Versatile.
Industrial quality, heavy duty barn door hardware is our specialty. Crafted from premium grade stainless steel, our barn door hardware handle is unbelievably durable and built to last.
The 12-inch stainless steel barn door handle by MJC is a top pick among designers, decorators, DIYers, and contractors. It's a trendy stainless steel door pull that coordinates with traditional, modern, urban or rustic decor.
Why wait? Order your very own MJC handle kit today!
Finger Pull Size: 8 5/8" x 2 3/8" x 1/4"
Pull Handle Size: 12" x 2 3/4" x 1"
Latch Lock Size: 4 1/4" long
Door Panel Thickness: 1-1/4" to 1-3/4" thick barn doors - Use longer screws for thicker doors (not included)
Bolt Size: M8 X 1.25 X 60
- FREE Standard Ground Shipping on Orders over $200 for this Product -
This product is eligible for Free Shipping on orders over $200 delivered to the contiguous United States.
Handling time: 1-3 business days
[Free/Standard Shipping] Transit time: 3-5 business days
Note: Some larger quantity and/or custom orders may require longer handling and transit times.
*International shipping is based on total weight and is calculated at checkout.
All MJC & Company hardware is backed by a Limited Lifetime Warranty.
Stainless Steel & Black Pull Handle Instruction Manual
Customer Satisfaction Guarantee
We fully stand behind our products' quality and want our valued customers to have nothing short of a fantastic experience. If your MJC hardware for some reason arrives damaged or missing parts, shoot us a message within 30 days of receiving your order, and we'll work with you to make it right.
Most items can be returned within 30 days of delivery for a full refund of the purchase price, excluding shipping costs.
A list of Non-Returnable Items, and other important return info can be found by reviewing our comprehensive Return Policy HERE.
Returns must be approved prior to shipping the items back to us by emailing returns@mjchardware.com
Customer Reviews
10/02/2020
Yesenia V.

United States
Barn doors
Ordering was simple, quality was good and delivery was fast! My only hope was for a larger size selection to choose from.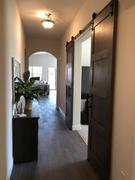 08/26/2020
Roxanne M.

United States
Quality hardware
As described. Nice quality.
08/04/2020
Angela M.

United States
Perfect!
Great quality door pull. Looks great on our barn door. Very easy to install.