Vintage | Double Barn Door Hardware | Matte Black
$279.00
Size Guide
---
---
Rustic. Bold. Versatile.
Meet our Vintage Bi-Parting Sliding Barn Door Hardware Kit.
It features BIG INDUSTRIAL SPOKE WHEELS specially made for double barn door applications, making it a top choice among those decorating rooms with an industrially urban appeal. It combines modern trends with some industrialized old world charm!
MJC Barn Door Kits INCLUDE everything needed for a hassle-free install, start to finish. You'll have that barn door hung in no time!
Note: The size options listed are for the rail length. To calculate the proper rail length for your door, use the following formula: (Total Door Width * 2 + 6" = Ideal Rail Length). If needed, round up to the nearest half-foot or shoot us a message, and we can create a custom order.

- IN-STOCK. READY TO SHIP -

This all-in-one barn door hanger kit comes with everything needed for a successful install.
High-Strength 1/4" Steel Rail

Heavy-Duty Rail Adapter

Rail Support Brackets

Door Hangers - 2 per door
Door Stoppers - 2 per door
Anti-Jump Caps - 2 per door
T Floor Guide - 1 per door
Hex key - for tightening door stops
Detailed step-by-step instruction manual - paper and a PDF copy

(Door NOT included)
BIG INDUSTRIAL SPOKE WHEELS
To present a look that's both modern & indicative of the industrial age, we've enhanced the barn door hardware track with a set of large multi-spoke wheels inspired by age-old ironworking.
ALL BLACK POWDER COATED STEEL
Unlike other barn door accessories, our barn door hardware pack is built tough & designed to last. Each piece is crafted from super-strength steel metal & finished with a black powder coating.
QUICK, EASY, EFFORTLESS INSTALL
When it comes to kits containing all of the barn door brackets & wheels needed for a pain-free installation, MJC & Company has got you covered. Our kits are simple solutions!
#1 CHOICE FOR DIY DOOR HANGING
DIY-ers love us! Hanging barn doors for home décor is made simple by Caldwell barn door rail kits. Why hire a contractor when you can install your own barn door hanger channel?
CRAFTED OUT OF EXTRA-STRENGTH STEEL
Ultra Durable, Tough Enough to Handle Daily Rolling
Other barn door rollers weaken & become fragile, but ours stay strong! Tested beyond 100,000 rolls. The heavy-duty barn door hardware outperforms & outlasts most other barn door hardware accessories. Our barn door hangers & rollers kits are ones that can be trusted!
ADDED DEPENDABILITY
Our Two-Piece Rail Provides Reliability & Reinforcement
We've included (2) 6.6ft heavy-duty barn door rails and (1) heavy-duty connector for added stability and a warp-free installation.
(225 lb weight capacity per 6' of rail; Door Thickness: 1-3/8" to 1-3/4")
DECORATIVELY VERSATILE MATTE BLACK FINISH
Coordinates with Most Types of Home/Office Decor
Whether decorating a room with a country chic, throwback vintage, or urbanized industrial feel, this barn door kit will twist the design trend. The black wheel spoke accents atop the barn door roller guide are fashionable & fun.
Hanging those sliding barn doors couldn't be easier. Click 'ADD TO CART' to order your new vintage barn door hardware bundle!
This all-in-one barn door hanger kit comes with everything needed for a successful install.
High-Strength 1/4" Steel Rail*

Rail Wall Spacers

Rail Wall Brackets (Bypass Kits Only)

Door Hangers - 2 per door

Door Stoppers - 2 per door

Anti-Jump Caps - 2 per door

Floor-Mounted T-Guide - 1 per door

Hex Key (For tightening door stops)

Detailed step-by-step instruction manual - paper and eBook copy

(Door NOT included)
*Rails up to 7.5' will be shipped as a single, continuous rail.
*Rails exceeding 7.5' in length are split into two pieces.
*NOTE: The rails join either by interlocking to one another at a fastening point or via a rail connector piece. Unless specifically requested by the customer, all split rails will come as interlocking. The interlocking point will occur at a pre-drilled hole in the rail and secured in place with a lag bolt and washer during regular installation.
- Standard Ground Shipping on All Orders -
Overhead track systems ship with the following timerames:
Handling time: 2-4 business days
Transit time: 5-10 business days
Note: Some larger quantity and/or custom orders may require longer handling and transit times.
*Imported
All MJC & Company hardware is backed by a Limited Lifetime Warranty.
Have special requirements for your project? Send us a message with the following information to receive a custom quote:
Hardware Style - Vintage, Modern, or Classic
Single Rail or Bypass System
Door Quantity
Finish - Matte Black Powder Coat or Stainless Steel (Stainless Steel is currently not available for bypass systems)
Rail Length 
Click Here to get your custom quote today!
Classic, Vintage, and Modern Hardware Kit Instruction Manual
Soft Close Mechanisms
Customer Satisfaction Guarantee
We fully stand behind our products' quality and want our valued customers to have nothing short of a fantastic experience. If your MJC hardware for some reason arrives damaged or missing parts, shoot us a message within 30 days of receiving your order, and we'll work with you to make it right.
Most items can be returned within 30 days of delivery for a full refund of the purchase price, excluding shipping costs.
A list of Non-Returnable Items, and other important return info can be found by reviewing our comprehensive Return Policy HERE.
Returns must be approved prior to shipping the items back to us by emailing returns@mjchardware.com
Customer Reviews
10/19/2020
Mike K.

United States
Excellent customer service
Had a big misunderstand which ended up being 100% my fault. This company went out of their way to make it right even though it was my problem. Thank you
09/30/2020
Chris K.

United States
Great service and product
Great company with responsive service. Delivery company did not deliver part of order and MJC sent a replacement out immediately. Will buy again and recommend to friends.
03/03/2020
John S.

United States
Quality Hardware Kit
I ordered 2 rail kits and one was missing a lag bolt. (5 sent, needed 6) I had to go buy 6 lag bolts and paint the heads black. Other than that, very happy.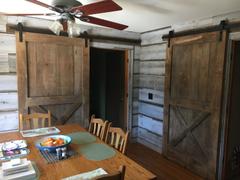 Hey John, Glad you are happy with your purchase! Regarding the missing lag bolt, if that ever happens just shoot us a message and we'll get any missing parts sent out right away. Cheers, Matt