5 Creative Ideas for Barn Doors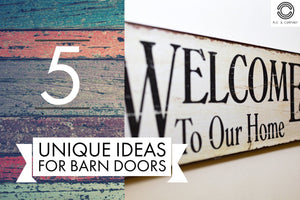 Unique Ideas for Barn Doors
Barn doors paired with a good quality sliding barn door hardware kit are a great way to add functionality and increase usable space in any room; however, using barn doors to close off your space is only one use for them. In this article, I will discuss five uniquely creative ways to incorporate one of the hottest DIY home decor trends.
Each of these ideas it will require a custom barn door and your choice of sliding barn door hardware. Call us bias, but MJC & Company (formerly Caldwell Company) carries some of the finest pieces of sliding barn door hardware on the market. To make the deal even sweeter, MJC & Company backs all hardware purchases with a lifetime warranty.  
Check out our former DIY Z Barn Door Tutorial Blog for creating your very own barn door and also the full line of MJC & Company barn door hardware collection to get it rolling with style.
(MJC & Company is a rebranding of Caldwell Company. As of the time of writing this post, Caldwell Company is in the process of transitioning over to the new name. The new domain will be www.mjchardware.com)
DIY Barn Door Headboard 
Image by TOP Cool DIY on Pinterest
Who said barn doors can only be used in an entryway? A very cool and unique way to incorporate barn doors in your bedroom is by creating a custom headboard. This is one sure-fire way to add character and truly personalize your bedroom.
You can bet this will be a conversation starter.
DIY Sliding Barn Door Nightstand 
Image by Shanty 2 Chic on Pinterest
Add a rustic chic vibe to your nightstand and separate the compartments of an openly shelved nightstand with a mini sliding barn door!
The mini barn door is becoming popular and as you can see, they are super cute too. This setup will require a mini barn door hardware kit.
Barn Door Shutters
Image by Pole Barn Homes on Pinterest 
Whether you want a rustic farmhouse or a modern decor style, sliding barn door shutters fit into just about any decor style. Use barn door shutters as a focal point in a living area or as an accent in any room. 
Barn Door Entertainment
Image by Gardening Life Today via Sunlit Spaces.
Close up your entertainment center with style and character with a set of double barn doors. Just pick out two barn doors of your choice and a standard size sliding barn door hardware kit and you're good to go.
The only problem you may after install is trying not to focus on the barn doors while watching tv. Or is that even considered a problem? I'll let you decide.
Double Bypass Pantry 
 Image by Inspired by Charm 
This utilization of barn doors may not be the most unique out of the prior 4, however, it's one that is often overlooked. Instead of having an open pantry or just using the standard plain and boring bi-fold doors like every other house, get creative and close it off with a double bypass barn door system. 
MJC & Company (formerly Caldwell Company) has the perfect double bypass barn door hardware kit for this setup. Check out their collection HERE and transform your kitchen pantry today!
Recap
Ok, so now that we've just gone over five unique ideas for barn doors that you probably didn't know about, it's time to pick which one you will incorporate in your own home.
Will you go with the barn door headboard, window shutters, nightstand, entertainment center, or the double bypass pantry? The possibilities are endless if you really put your mind to it and get creative. 
Feel free to reach out to us by CLICKING HERE if you have any questions about barn door hardware or creating your own custom barn doors.
Happy renovations!
Our Top Picks for Barn Door Hardware in 2020